National Cremation Service and Neptune Society are working together to provide a complimentary course for nurses looking to gain continuing education credits in Atlanta this July.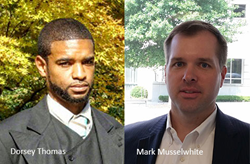 Mark Musselwhite of Neptune Society in Atlanta, GA and Dorsey Thomas of National Cremation Service in Marietta, GA have partnered together to offer continuing education credits to nurses and social workers in the Atlanta area starting mid-July.
"We are constantly looking for ways to give back and get involved in our communities," Thomas said.
The course "What's So Funny: Using Film to Explore Funeral Planning" will light-heartedly instruct healthcare professionals on how to be better able to talk with patients or clients to help attendees gain new perspectives on end-of-life planning.
Topics covered by this course include in-depth discussion of pre-need, at-need, burial, and cremation services. By the end of the course, attendees will be able to help families plan ahead for funeral services and assist families who need immediate assistance with confidence.
Presenters of the course Dorsey Thomas and Mark Musselwhite will also be available to answer questions about insurance, death certificates, Social Security, and other insights they have gained as licensed funeral directors.
Musselwhite said, "We are excited about the opportunity to further support and partner with the nurses and social workers in our communities."
There will be no requirement to RSVP for course seats and both locations will be presenting the same course. There will be no cost to attend the course for nurses from hospice, respite, nursing homes, or long care facilities in the state of Georgia. In fact, Neptune Society and National Cremation Service plan to offer the course on location at local hospice facilities, making it even easier for the nurses and social workers there to learn about cremation and end-of-life planning.
The course provides 1 clinical/core hour for social workers (ASWB), 1 clock hour for certified case managers (CCMC) and 1 contact hour for RN through CCMC (which the GA Nursing Board accepts).
To learn more about this opportunity, please contact either Neptune Society Atlanta, GA or National Cremation Service Marietta, GA. Neptune Society and National Cremation Service are trusted providers of at-need cremation services, advance cremation planning, and secure prepaid cremation. Both Neptune Society and National Cremation Service have locations across the country to help families plan cremation services for themselves, or loved ones who have recently passed away. Those wishing to plan a cremation for themselves or a loved one should contact a nearby location.
______________________________________________________________________________________________
The Neptune Society is the nation's oldest and largest provider of affordable cremation services. Whether you have an immediate need or want to plan cremation services in advance, we are always available to assist you and your family.
Call 1-800-NEPTUNE (800-637-8863) today or contact us online to learn more.