Dallas, TX Cremation Pre-Planning: What You Should Know
Cremation is Affordable
Prepaid Cremation Saves Money
Preplanning Gives You Control
Preplanning Provides Peace of Mind
Use the form on this page for a FREE cremation planning guide.
Cremation Service in Dallas
At the Neptune Society of Dallas, we understand the pain of grieving a loss. We are here to ease the difficulty and stress of carrying out your loved one's final wishes with our cremation services in Dallas. For nearly five decades, we've served the Dallas communities, providing options that fit their budget and allow them to say goodbye to their loved ones with dignity and compassion. If you are seeking to plan for the future, we provide 3 convenient ways to contact us. The Neptune Society staff will offer guidance on an affordable plan that feels right for you with our cremation service in Dallas.
Affordable Cremation To Help Through A Difficult Time
The Neptune Society of Dallas makes assisting families who have lost a loved one a priority. The death of someone close to you should not be a financial burden, so we provide Dallas cremation services that will fit your budget.
If you choose Neptune Society's prepaid cremation services, our staff of professionals will assist you in deciding on the right plan. Prepayment at the current price will prevent paying higher costs in the future.
Prepaying saves your family from facing financial stress when a loved one dies. You are protecting yourself and your loved ones, and providing them with peace of mind tomorrow, when you choose prepaid cremation today from Neptune Society in Dallas.
Prepaid Cremation Services
Cremation preplanning in Dallas saves you and your family from worry over the financial burden of an unexpected death. By choosing to preplan cremation, you're giving your family the opportunity to spend time later celebrating your life. And as the costs of cremation and funeral services rise every year, you have the peace of mind of knowing your family will be spared paying higher prices in the future. You won't have left your loved ones to deal with financial hardship in an already difficult time when you choose prepaid cremation services from Neptune Society of Dallas.
Choose Neptune Society For Cremation Services In Dallas
At Neptune Society, we'll guide you through the process for immediate need or preplanned services. Our goal is to make this difficult time easier for Dallas community members. To learn more, contact us today or call (972) 432-7721.
Immediate Need Cremation Services
Please accept our deepest sympathies for your loss. If there's no prearranged plan put in place when a loved one passes, the whirlwind of details and information can become overwhelming. At Neptune Society of Dallas, our experienced professionals will walk you through the process, and be there to answer any questions you may have.
Notify Us That The Death Has Occurred
Speak with a Funeral Director, or a designated Family Services Representative to learn more about carrying out your loved one's wishes for cremation.
Gather The Necessary Information
Neptune Society, doctors, state agencies, and other officials require the following information in order to proceed with cremation:
Date of birth and birthplace
Social Security number
Father's name and state of birth
Mother's maiden name and state of birth
Form DD-214 (if deceased was a veteran)
A copy of the driver's license
We'll work your behalf to take care of the rest. Contact us today for assistance with immediate need cremation services in Dallas.
Dallas, TX Veteran Cremation
Our dedicated family service representatives in Dallas are trained to answer your questions about veterans' cremations. Dallas veterans may be eligible for the following benefits through the Department of Veteran's Affairs:
Special honors: American flag and Presidential Memorial Certificate
A credit to help pay for your Dallas cremation service
Interment of cremated remains in a National Cemetery
We help you navigate your veteran's benefits eligibility and cremation planning. Contact us below to learn more.
Neptune Society offers expert assistance and guidance for families who choose interment of their loved one at the National Cemetery. We specialize in working with our honored veterans and DFW National Cemetery. We are able to assist our veterans and their families with determining eligibility and scheduling services at Dallas-Fort Worth National Cemetery (or any national cemetery in the US), arranging military honors, obtaining a burial flag or headstone (marker, tombstone), applying for burial benefits with the VA.
Veteran Information:
Visit The U.S. Department of Veterans Affairs for questions/information on VA and benefits.
Dallas-Fort Worth National Cemetery
2000 Mountain Creek Parkway
Dallas, TX 75211
(214) 467-3374
Take a Virtual Tour of Our Office
Use your mouse to click the arrows in the photo below to move around our office.
About Us
Driving Directions to Our Office:
We are located one and a half miles north of President George Bush Tollway on Custer Rd at Parker Rd in Plano, TX. Our location is very easily accessible from any major highway in the North Texas Area. (PGBT, DNT, I-30, I-75)
Together, the staff brings a combined 45 + years of knowledge and experience, striving daily to provide their core values of Respect, Integrity, Service Excellence and Enduring Relationships to the community.
Services we offer include online tributes, obituary placement, professionally printed keepsakes (bookmarks, prayer cards, and service folders), Timeless Touch (fingerprint) Jewelry, Memorial Portraits, and other memorabilia for memorial services.
Our Office Proudly Serves the Following Areas and Counties:
*Distance restrictions may apply in some cases in some areas.
---
Our Team
Carolyn F. Roberson
Carolyn grew up in Louisiana as one of eight children. She attended and received a Bachelor of Science degree in Institution Management in 1978 from Grambling State University. Later, in 2005, she moved to Dallas to attend Dallas Institute of Funeral Service, graduating in 2006 with an Associate degree in Mortuary Science. Her favorite things include reading, cycling, and painting inspirational rocks that she often shares with others.
---
Bonnie Kuhlmann
Bonnie Kuhlmann is the Office Coordinator for the Dallas/Plano office. She has served families at this location for three years. Prior to this position, she served families in the Carrollton area for over 10 years at a local church.
She and her husband of 34 years are parents to twin girls and a son, and grandparents to the most beautiful, amazing granddaughter. More than anything else, she loves spending time with her family and hanging out on the beach, preferably the west coast. They are a cat- and dog-loving family. When she and her husband got married, it was a package deal – her and her cat.
She grew up in a military family and although they did not move around much, she saw many families come and go. She has much respect for military families and appreciates the sacrifice and commitment they have for our country. At Neptune Society, we are also proud of our Veterans and will help coordinate the military service that your loved one has earned.
Our office is honored to have the opportunity to serve you and your family, either when preplanning or after death of your loved one.
---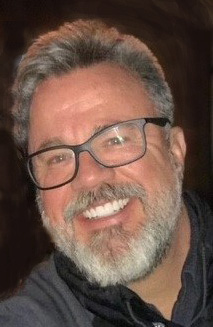 Timothy A. Smith
Timothy was born in Indiana, raised in Southern Illinois, and graduated from Southern Illinois University. He immediately moved to San Antonio, Texas where he started his career in the funeral industry. His passion serving the community in the funeral industry proudly landed him in the Dallas / Fort Worth area where he has been for over 20 years.
He has been married to his wife Rachel for over 24 years and has two grown daughters, Mallory and Lydia. They love going on summer family vacations in the mountains of Vail, Colorado where they enjoy biking, hiking, and (of course) shopping. While at home in Corinth they enjoy attending church weekly, biking the area trails, and fellowship with their neighbors. Family is a big part of his life and he cannot forget to mention his love of dogs. At this time he is a proud owner of three dogs – one Labradoodle and two Saint Berdoodles.
---
In The Community
We enjoy participating in community and volunteer events, and getting to know you! Check out what we've been up to by following our Facebook posts. You can like us by clicking the Facebook "Like Page" button below. Follow us on Instagram and Twitter too.
Online Direct Cremation Services
Our affordable plans have helped 100,000's of Americans during one of life's most challenging moments. We are proud to serve in Texas and to offer our families options to pre arrange with us. Texas residents can now make arrangements from the privacy of their home. Our simple 4 step process makes it easy to plan ahead. If at any point you have questions or would like to speak with one of our licensed funeral directors, just call our local office. We are here to help.
Make arrangements on your schedule, at your convenience
Affordable all-inclusive packages, no hidden fees
30 day money back guarantee
We have served families for over 40 years, we are here to serve future generations.